Tumbling Blocks Quilt – queen
$749.00
Measures 101″ wide x 112″ long.
The Tumbling Blocks quilt is one of the earliest quilt patterns, featuring geometric forms of light and dark that tumble across the quilt. The design is cleverly constructed to appear three-dimensional. This quilt, with its varied colors and fabrics, is reminiscent of colonial times when housewives saved every scrap of fabric that came into their homes and then used those scraps to make quilts.
The Tumbling Blocks quilt design has become popular here in "Amish Country." This handmade quilt with a scalloped border is all hand-quilted by Mrs. Frances H. Swartzentruber to insure uniform stitches.
The Tumbling Blocks Quilt fits a queen-size bed with a 20-inch drop.
Homemade quilts combine the warmth of a bed cover with a unique story told by the quilters from Lancaster County, PA. Every homemade quilt is as unique as the family, busy mother or Amish ladies group who uses a needle and thimble to thread stitch on the quilt. Some quilts involve hundreds of hours and thousands of stitches to create a unique patchwork quilt that will last for generations.
When you peruse our HOMEMADE QUILTS you are shopping for an item that tells a story and adds meaning to your bedroom! Discover more about our unique patchwork quilts and the stories behind them…
We have a lot of quilts! Want to see a gallery of the major patterns? Checkout our Common Amish Quilt Patterns.
Tracing the History of the Tumbling Blocks Pattern
Did you know?
The term handmade is commonly utilized to describe crafts created by a craftsman in contrast to a factory. Each handmade quilt is one-of-a-kind since it is not mass-produced. Not all the sewing in a handmade quilt is done by hand. Just as the woodcrafter utilizes mechanical devices to create his craftsmanship, our seamstresses make use of numerous devices to craft these quilts. The seamstress cuts her items with a rotary blade knife as well as sew them together on the stitching machine. The quilter functions with just thimble, needle, and string to quilt hundreds of small stitches throughout the quilt. Handmade is a gift: it is the gift of time and also talent to produce a product uniquely for you.
Related Products
You have not viewed any product yet.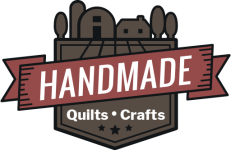 Welcome to Family Farm Handcrafts! Quilt making is an iconic representation of the Amish way of life, where working with their hands is highly valued. All items in our store are hand-stitched or handmade.
Find A Quilt
Handmade Crafts