Homemade Applique Quilts
Love the folk art of traditional applique? We do, too! We've used the original pattern of local Lancaster County quilt designer C. Jean Horst to create these Lacy Heart of Roses quilts. Accented with yards of hand quilting and edged with exquisite lace, our gorgeous handmade applique quilts will grace your home for a lifetime.
Quilters Have Loved Handmade Applique for Centuries
Had you lived three centuries ago, you probably would not have owned an applique quilt unless you were very wealthy. These quilts are typically made with one large piece of fabric and decorated with time-consuming patterns, each of which must be stitched individually. Only the rich could afford the fabric and spare the free time for such a project.
As the Industrial Revolution slashed the costs of fabric in the 1800s, applique quilts became more popular among middle-class American women. Traditionally, young girls were supposed to make thirteen (a "baker's dozen") quilt tops before engagement, and then her family and friends might pitch in to help her finish them before the wedding. Twelve of these quilts were often pieced, made for anyone in her new household to use.
One "masterpiece" quilt, though, was reserved for the bridal bed, and young women would lavish their time and creativity on its design. Applique quilts were very popular for these special coverlets, with baskets of roses and wreaths of flowers rioting across their center and borders.
Another American tradition is the folk art quilt, which was often filled with plants, animals, people, or even words, all telling a story. Some even preserve history that may never have been recorded otherwise, as with Harriet Powers' quilts. She knew slavery and racism, born in Georgia in 1837, but she used her needle to speak to a society that didn't want to hear her voice. The Smithsonian displays her Bible quilt and the Museum of Fine Arts in Boston displays her pictorial quilt, both of them preserving her bold and artistic storytelling.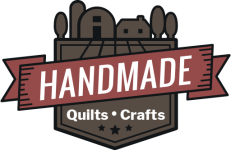 Welcome to Family Farm Handcrafts! Quilt making is an iconic representation of the Amish way of life, where working with their hands is highly valued. All items in our store are hand-stitched or handmade.
Find A Quilt
Handmade Crafts