Amish Patchwork Scrap Quilts
Scrap quilts hold a beloved place in dedicated quilters' hearts, repeating a few shapes in hundreds (sometimes thousands) of different fabrics. Their informal, homespun beauty recalls a time when quilters dug into their scrap bags and asked their friends for castoff materials as they pieced their odds and ends into a work of art. Also known as postage stamp quilts or charm quilts, we love to offer these traditional quilts to you, from our local quilters to your home!
Showing the single result
Frugality Creating Beauty: How Scrap Quilts Developed
Called a "charm" quilt in the late 19th century, young women collected hundreds of different fabrics from their family and friends. Perhaps if they collected 999 different squares, their true love would bring them the thousandth–and their happily-ever-after dream, too. One quilting blogger speculates that collecting these fabrics may have given girls opportunities to ask their love interest for a contribution!
The scrap quilt has also been called a "beggar" quilt, referring to quilters asking each other for contributions to their projects. Trying to put together a bedspread without repeating every fabric, they also called the quilts "odd feller" quilts–every piece was an odd feller. Some families recall their mother repeating one square, however, so that a child sick in bed might be entertained looking for the matching patches.
Still another name scrap quilts went by is the "postage stamp" quilt, so called because quilters would use their tiniest scraps, sometimes no bigger than a postage stamp. Perhaps the original motivation was not wasting the smallest piece (historians recall the scarcity of the Great Depression in this), but it also became a challenge at some point. Quilters would collect thousands of pieces to compete with each other in making stitched masterpieces.
Did you know?
Our artisans enjoy a very significant undertaking. They have the difficult duty of looking for complimentary fabric materials from a seismic choice of patterns produced by various material designers and suppliers. Each pattern chosen is integral to the final look of the quilt. The artisan of this quilt did a fine job of picking out beautiful materials that enhance each other and harmonize excellently. This is precisely why we consider a quilt a masterpiece of art!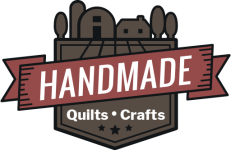 Welcome to Family Farm Handcrafts! Quilt making is an iconic representation of the Amish way of life, where working with their hands is highly valued. All items in our store are hand-stitched or handmade.
Find A Quilt
Handmade Crafts