Amish Homemade Tumbling Blocks Quilts
Love the cascading pattern of a tumbling blocks quilt? We do, too! The artfully arranged light and dark diamonds appear to be cubes stacked in vivid three-dimensional lines. Piecing tumbling blocks quilts remains among quilters' favorite challenges, arranging the colors to form the elusive blocks and sewing the sharp-toothed diamonds together.
The Tumbling Blocks quilt is one of the earliest quilt patterns, featuring geometric forms of light and dark that tumble across the quilt. The design is cleverly constructed to appear three-dimensional. These quilts, with their varied colors and fabrics, are reminiscent of colonial times when housewives saved every scrap of fabric that came into their homes and then used those scraps to make quilts.
The Tumbling Blocks quilt design has become popular here in "Amish Country." Each handmade quilt with a scalloped border is all hand-quilted by one Amish seamstress to ensure uniform stitches.
No products were found matching your selection.
Tracing the History of the Tumbling Blocks Pattern
Did you know?
Over the centuries, quite a few procedures have been cultivated to make it easier for quilters to piece multi-angled quilts together. One of these tactics is called paper piecing, which is ordinarily used to put together the complex points of the
Mariner's Compass quilts
. Paper piecing, as it name designates, uses a distinct paper pattern on which the cloth segments are sewn. The pattern leads the seamstress to perfectly assemble the pieces together so that the finalized top will lay out flat. Tactics such as this are a fantastic aid to our quilt-makers!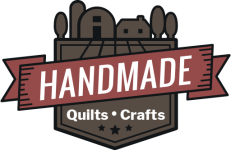 Welcome to Family Farm Handcrafts! Quilt making is an iconic representation of the Amish way of life, where working with their hands is highly valued. All items in our store are hand-stitched or handmade.
Find A Quilt
Handmade Crafts